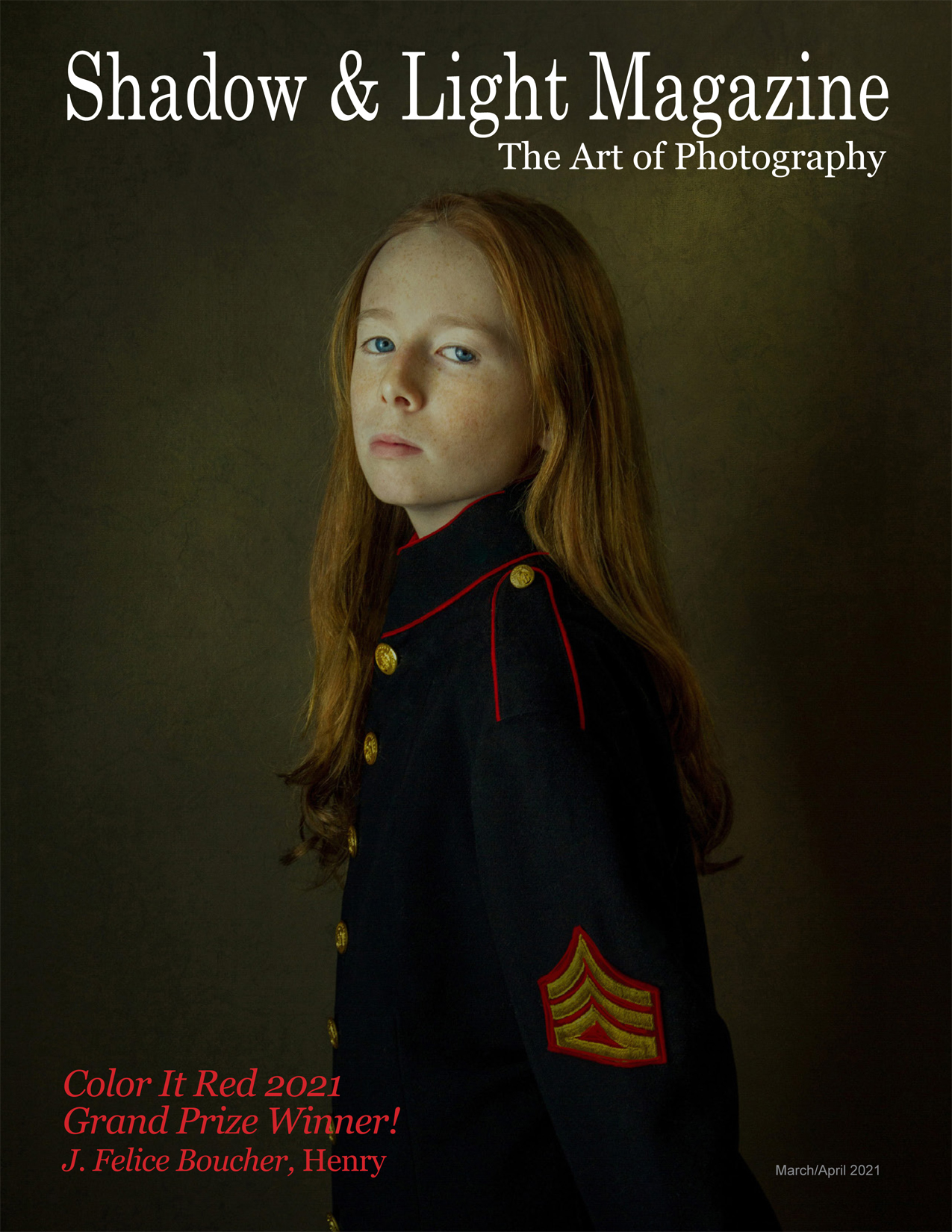 Color It Red 2021 Grand Prize Winner!
**** OK. I heard from many of you that the link was not working for this great deal. After a bit of research, I discovered the glitch and fixed it. If you click on it and it doesn't work, please let me know. As you might guess, this is very important! thank you for your patience and understanding.
Wow! Was that a process or what?
The Color It Red 2021 results are in and have been announced and the accolades are already coming in!
• The cover photo and the artist portfolio is stunning! It takes a lot for me to say that, but this work is truly amazing. Such lovely lighting and color palette and insight and connection to the subjects. I just love it! (Bobbi)
• As always, Tim, the magazine is gorgeous and beautifully presented. Congratulations to your team! I look forward to enjoying many more issues of Shadow & Light Magazine! (Fran)


J. Felice Boucher, Grand Prize winner! (pictured)
J.P. Terlizzi
Dale Niles
Jennifer Bong
Sheba Amante


Mini Portfolios/Single Image Showcase:
Bobbi Lane (mini portfolio)
Mara Zaslove (mini portfolio)
France Leclerc
Amy Ditto
Irving Greines
Greg Smith
Judith Guenther
Lawrence Manning
Barbara Leven
Dede Pickering
Rhonda Spidell
Ron Cooper
Sally Bucko
Vered Galor
Michele Zousmer


• We have also added a new feature. It is called Creative License and it will feature collaborations between photographers to create a project.
In this issue we are featuring Svala's Saga. In a collaboration (book) between a mother and daughter team (Emma Powell & Kirsten Hoving), they offer a tale of what if...


• Thanks so much to all the entrants and let's start getting ready for next year! The Color It Red online gallery will be added the the site by Friday.