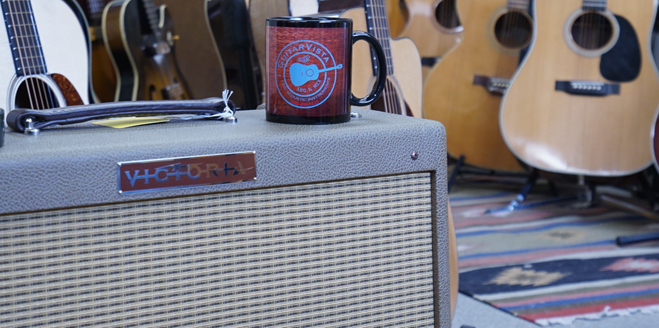 • Welcome Jeff, Carolyn, Jason, Kevin, and Patti! Thanks for signing up at GuitarVista.
This last Tuesday I attended the CMA Songwriters Series, at the Kimo Theater. It was a truly great event. Four very successful songwirters were there: Luke Laird, Sierra Hull,

Lauren Alaina

, and Erin Enderlin. They have written songs for a stellar list of singers, as well as being stars in their own right. The most well-known artist is Sierra Hull, who even dazzled fellow performers with her prowess on an octave mandolin, as well as with a guitar. The series is best known for working with schools in developing and maintaining music programs. As we all know, this is a very worthy cause!
Oh. oh! the next time you stop by GuitarVista, you might want to ask Stan about the new coffee cups. They come in two styles: the stylin' one pictured above, and a white cup with the really cool logo...
Christmas is just around the corner, ya know!
Remember to let me (tim@timandersonstudio.com) know if there is something happening, musically, in our region that you think readers of "The Stringer" might appreciate.
We hope you enjoy this issue and will share it with all your friends... pass it on! Comments are ALWAYS welcome.

Thanks!
Stan & Tim (the newsletter guy)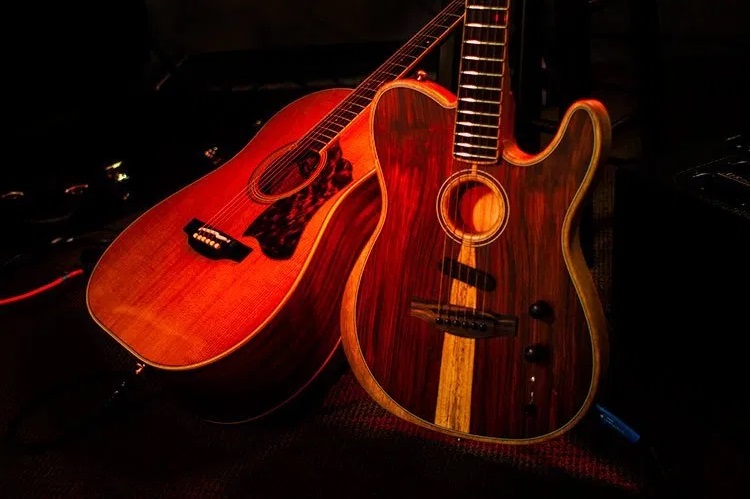 Stage-Ready: Understanding the Latest
Options in Acoustic-Electric Guitars
Acoustic guitarists who have been around long enough can tell stories about the days of trying to be heard in a band: standing still in front of a mic while battling feedback or using the earliest of aftermarket pickup options and sounding like all wires and no wood. And the first acoustic-electric guitars—like the P-90-equipped Gibson J-160E that John Lennon made famous in his television appearances with the Beatles—didn't really sound convincingly acoustic either, nor did instruments like Martin's short-lived D-18E and D-28E of the late 1950s.


In the last few decades, pickups have come a long way for the performing acoustic guitarist. There are now seemingly endless choices of guitar/pickup combinations to suit the needs of players in a variety of styles.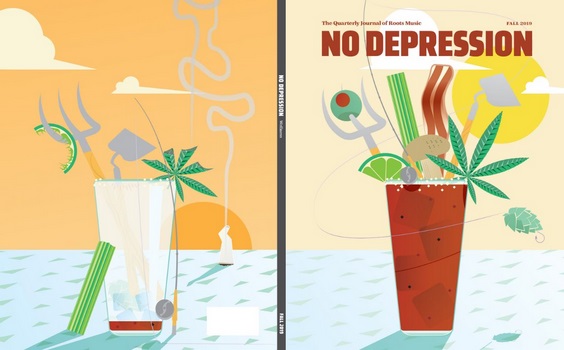 Subscribe to No Depression and receive current issue! (only 60 left!)

The Fall 2019 issue of No Depression is our take on a Food & Drink issue. In time for the harvest season, we explore what roots musicians eat, drink, and smoke, as well as farm, foster, and distill. In a larger sense, the issue also aims to balance body and mind and embrace contemporary notions of self-care. Of course, stories also include a taste of roots music's indulgences, too!
Here's a list of a few of the artists in this issue: Aoife O'Donovan, Lydia Loveless, American Aquarium, Steve Poltz, Ben Glover, Molly Tuttle, Sean Rowe, Margo Price, Frank Solivan, and Steep Canyon Rangers.


Fewer than 60 copies of our Fall 2019 "Wellness" print issue remains. When you subscribe, you'll receive this issue first while supplies last!
• GuitarVista Showcase •

Used 1970s Fender P-Bass w/OHSC

• For those of you who create like to those subtle rhythms that bands depend on, you might want to come in and take a look at this Fender P-Bass. It's all there... played, but not abused!


Used Eastman Electric El Rey (2007 vintage)
• This Otto D'Ambrosio-designed beauty is a semi-hollow Eastman spruce & maple player has a 14-inch lower bout w/Armstrong custom humbuckers, is in VG+ condition and comes with a hard-shell case.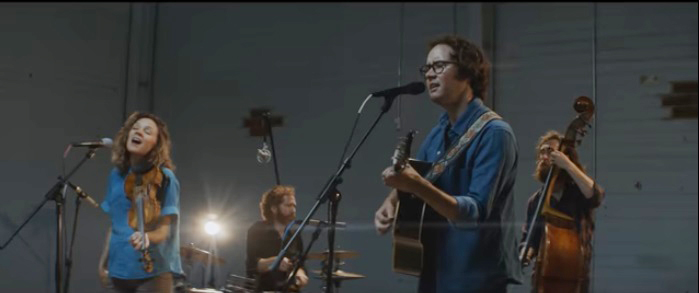 Early Warning: AMP Brings Mandolin Orange
to the KIMO

• Note: This intimate concert is sure to be a sell-out, and as you know at the KIMO, it is like being in your living room! By the way, if you like the sound of Andrew's guitar, he made it and you can't have it!

Mandolin Orange's music radiates a mysterious warmth—their songs feel like whispered secrets, one hand cupped to your ear. The North Carolina duo have built a steady and growing fanbase with this kind of intimacy, and on Tides of a Teardrop, it is more potent than ever. By all accounts, it is the duo's fullest, richest, and most personal effort. You can hear the air between them—the taut space of shared understanding, as palpable as a magnetic field, that makes their music sound like two halves of an endlessly completing thought. Singer-songwriter Andrew Marlin and multi-instrumentalist Emily Frantz have honed this lamp-glow intimacy for years.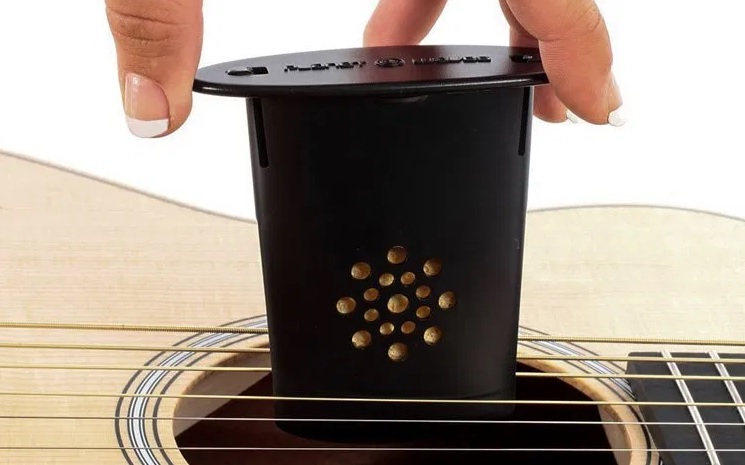 Ask the Expert: How to Cure Your Guitar's
Wintertime Humidity Blues
With winter approaching, along with the ensuing use of dry heat to warm your house, it's time to have a conversation about the potentially detrimental effects of humidity. Maintaining your guitar's humidity level is key in avoiding lots of headaches, from a fluctuating setup to potentially expensive structural repairs. While it might sound like a hassle, it's pretty simple to put into practice.


The driest time of year varies from one area of the world to another, but most of us need to think about it when the heat goes on and the air in our homes is much drier. Did you ever wake up with a dry mouth or irritated sinuses in the winter? Imagine how unhappy that makes your guitar!


You can start by considering where you generally keep the guitar.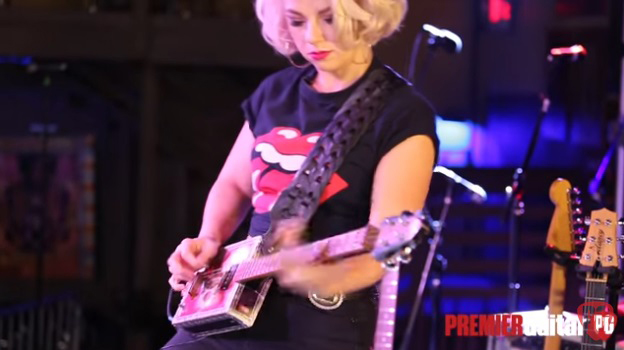 Rig Rundown for Samantha Fish (Alternate Root-2019)

Rising blues star, Samantha Fish, returned to Nashville for two packed nights at 3rd & Lindsley, on tour behind her excellent album, Kill or Be Kind. Listening to the 10 albums she has recorded over the years, her evolution is audible and impressive.

Fish's playing reaches a fresh creative peak on her latest, as a songwirter, vocalist, and player. She's consistently inventive and dynamic, and many of her solos boldly leap outside the box, with wild string-bendfing and ear-catching octave and delay effects, and she possess a large tonal vocabulary, thanks to a collection of guitars that include Fender Jaguars, a trusty Delaney semi-hollowbody, a raunchy cigar box, and her no. 1 white Gibson SG. We caught up with Fish on September 19, before a two-night Music City stand.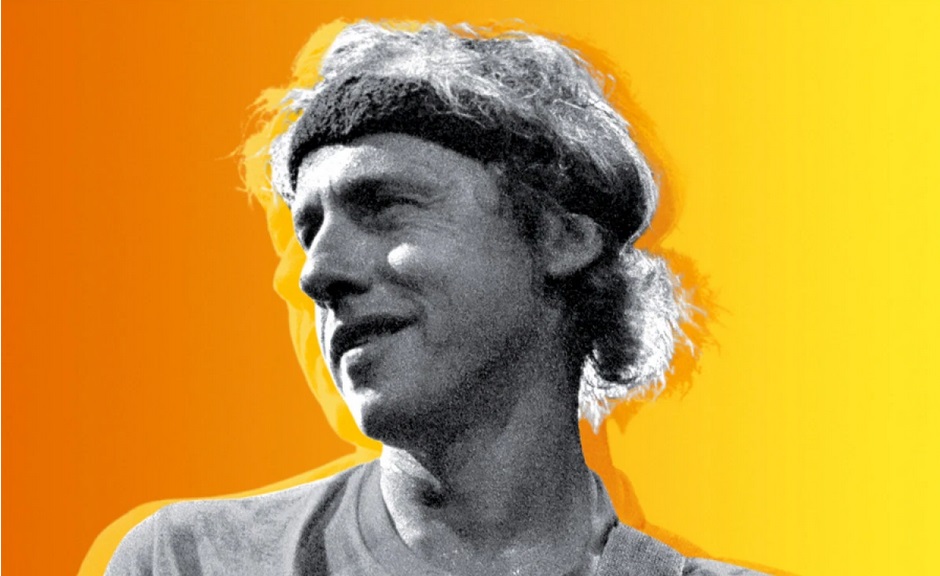 Future 25: Dire Straits and Royalty Exchange

Dire Straits called it quits as a band in 1995. But in 2019, the back-catalog of the British rock band is reeling in more money than ever — thanks to an investment scheme that may help take the oft-in-turmoil music industry into a smooth financial future.


The band's longtime manager, Ed Bicknell, took a gamble last year by selling his share of Dire Straits' royalties through Royalty Exchange, an online marketplace that lets investors buy chunks of music royalties. Royalty Exchange's premise is similar to the Bowie bonds of the Nineties, which netted David Bowie $55 million, but it operates on a much larger scale: Its eBay-like setup lets investors and rights-sellers size one another up, and facilitates auction-style bids.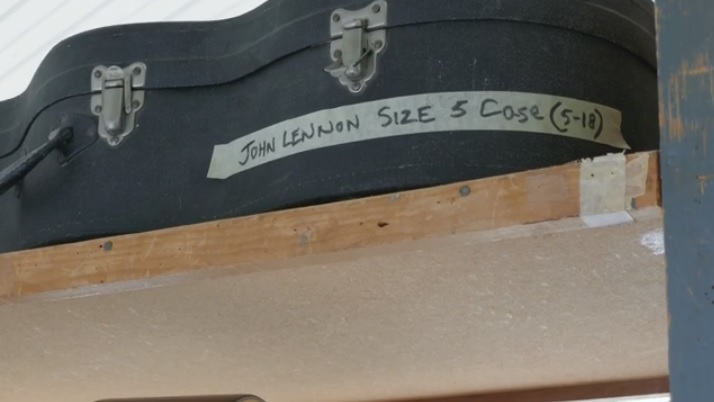 A Visit to Martin Guitar's North Street Factory (video)

The Fretboard Journal goes on location to visit the legendary Martin guitar factory in Nazareth, Pennsylvania.

In this clip, we get a tour of Martin's original North Street factory, where all Martins from the late 1850s to 1964 were produced. If you own (or hope to) a vintage Martin, this is where it all started. We learn about the work flow of the old factory, see some unique relics from the space's heyday and more.


Over the next couple of weeks, we'll be sharing additional videos from our Martin trip, including a peek at Martin's mammoth Sycamore Street production facility and its museum holdings.