• Welcome Olive, Dustin, Jade, Norm, Linda, Blaine, Douglas, Ken, Scott,Andrew, and Paul! Thanks for signing up at GuitarVista.
Just a few notes before we get to the spectacular content of this issue. The first addresses Thanksgiving week hours for your friend and mine, Stan and GuitarVista.
Thanksgiving Weekend: GuitarVista will be closed from 11/25/19 until 12/3/19...


2. As I was cruising around the web, I came across a site for Banjo Judy. I had heard of her, but never let it go any further than that. She has one full page of scheduled jams, pulls, workshops, etc. Take a look a the link below and you just might find that musical environment you been missing. http://www.banjojudy.com/nm-jams/


Oh...oh! the next time you stop by GuitarVista, you might want to ask Stan about the new coffee cups (image above). They come in two styles: the stylin' one pictured above, and a white cup with the really cool logo... Christmas is just around the corner, ya know!


Remember to let me (tim@timandersonstudio.com) know if there is something happening, musically, in our region that you think readers of "The Stringer" might appreciate.
We hope you enjoy this issue and will share it with all your friends... pass it on! Comments are ALWAYS welcome.

Thanks!
Stan & Tim (the newsletter guy)



That Martin Sound
A handcrafted guitar paired with complex acoustics measurements; the art of sound and the science of sound. All of these elements came together in a research project involving the research expertise and resources of Penn State's acoustics facilities and the talent and tradition of Martin Guitar—an iconic 6th generation family business in Pennsylvania.


Micah Shepherd, assistant research professor of acoustics, and a team of Penn State acoustics experts worked with Martin Guitar to develop a method to analyze acoustic properties of guitars and components—to understand the science behind the variance in sound produced by different guitars and guitar components.
That Time Michael Bolton
Wrote a Song With Bob Dylan
As Rolling Stone reported last month, Bob Dylan's heartfelt Time Out of Mind track "Make You Feel My Love" has oddly become one of his most-covered songs, with more than 400 interpretations to date. One of those is by Michael Bolton, who included a version with German singer Helene Fischer on a recent duets album.

But as Bolton was reminded during a recent conversation with RS, it wasn't the first Dylan song he put on tape. Nearly 30 years ago, the two unlikely collaborators — rock's preeminent songwriter and pop's then-reigning lord of the power ballad — converged to write "Steel Bars," which wound up on the hugest album of Bolton's career, 1991's Time, Love & Tenderness.
• GuitarVista Showcase •

Lariveé SD50 w/hsc (used)

• This sunburst, herringbone guitar is a already a classic. It boasts a spruce top and mahogany back/sides. Once I picked it up and did a bit of finger-picking, I could hardly believe it is a used (very gently) guitar. This one's a keeper!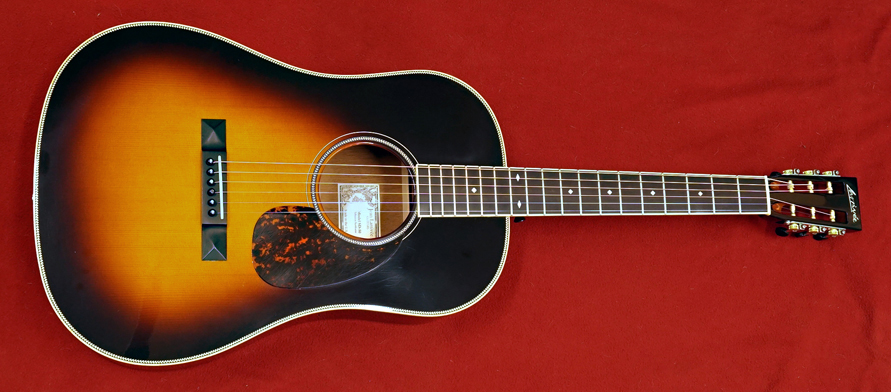 Used Bourgeois D Custom (w/hsc)

• This beauty is another ever-so-lightly used guitar that plays smoothly and has a great tone. With a sitka top and torrified mahogany back and sides, once you place this one on your lap, you may just want to take it home. (Christmas is comin', ya know!)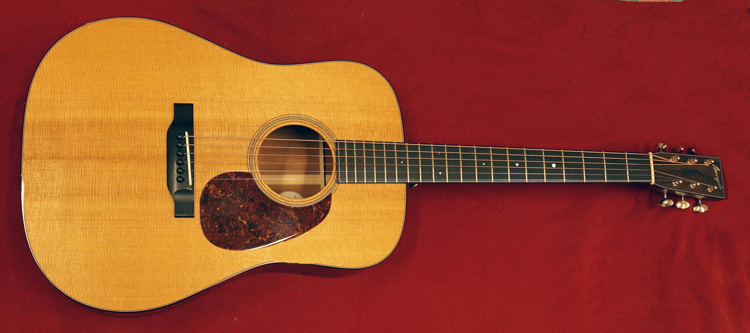 Guitar Guru: Can You Hear
the Difference in Tonewoods?
Q: If somebody blindfolded you and gave a first-rate guitarist 20 of your guitars to play, of all different sizes, with various tonewoods, would you be able to tell what model was being played at a given time? Could you tell East Indian rosewood from Madagascar or Brazilian rosewood? —Steve Yarbrough, Boston, Massachusetts
A: The short answer is: sometimes. I might be able to identify a model made from classic wood combinations, or pick out exceptional woods or oddball species. And the short explanation is that different models and different woods can have confusingly overlapping sonic qualities.


To my ears, a good set of Brazilian rosewood has a ring-y, mildly metallic (vs. woody) tone with even lows, mids, and highs, and a slightly wet, or reverby finish. When I tap a set, I like to hear a "gong" and a "ping" at the same time, with good sustain. But not all Brazilian fits this description.
Do you have everything you need
to promote your next release? (download)

Making your music available is one thing. Making people care is another. Let's make sure you're set up to be as successful as possible for your next release.

We put together a checklist of 30 tips to help you promote your music.
And it's Free!
Hint: There are two buttons on the download page. The top one is just for the guide mentioned in this notice. The second button allows you to download 14 PDF guides from promotion ideas to Youtube tips to (dare I say it?) making money. (Tim)
Dar Williams at the James A Little Theater (AMP-SF)

In the past few years, Dar Williams has been involved in a wide range of different efforts and projects: teaching a course titled "Music Movements in a Capitalist Democracy" at her alma mater, Wesleyan University; working with children at several summer camps; leading songwriting workshops; getting involved with the workings of her village; and writing a book about the ways she's seen towns becoming more independent and prosperous over her twenty years of touring.


In addition, in the face of dramatic transformations in the music industry, she released her latest album, Emerald, on her own after choosing to part ways with Razor & Tie, her label for almost twenty years. "It's like the record business is a giant building that collapsed," says Williams, "but when the building is destroyed, you get to see what remains.
The Alt Root Top Ten Songs for November 13, 2019

Put up or shut up is the theme for Wide Mouth Mason as they dance into the #1 spot with "Bodies in Motion" weekly Top Ten for Wednesday, November 13, 2019. The Dead South have a gamblers tale to match their western wear band uniforms with "Diamond Ring" from their recently released album Sugar & Joy while Jason Hawk Harris has a story of "Giving In" from Love and the Dark and "The First Pebble" hits the chart from The Gina Furtado Project. Samantha Leigh owns her scent of sulfur with the recent single "Devil in Red Shoes" while Evan Felker (Turnpike Troubadours) is joined by Carrie Rodriguez on the single "Whiskey in Your Water".


Cave Flowers say goodbye on "Best Lonesome Friend" from their upcoming (01-31-20) self-titled release, joining an advance listen to the new, Anders Osborne-produced, album All for the Song, from Railroad Earth due in 2020, on the list with "The Great Divide". Caitlin Cannon sings "Mama's a Hairdresser" while Suitcase Same heads for "Edge of Town" on the weekly Top Ten for Wednesday, November 13, 2019.

Note: click button (below) to listen to the Alt Root Top 10! There are surprises... check out Samantha Leigh (raunchy and real) & Dead South (finger-picking perfection) (Tim)
20 Iconic Guitars: From 'Lucille' to 'Trigger,'
great guitars and the musicians who love them
When Jimi Hendrix set his Stratocaster on fire at the Monterey Pop Festival, he explained it as an act of love. "You sacrifice the things you love," he said. "I love my guitar." The world's great guitarists undoubtedly love their guitars – Stevie Ray Vaughan went so far as to call his most beloved six-string his "First Wife." Here are 20 iconic guitars forever linked to the musicians who loved them.


Included: Eric Clapton, Jimmy Page, Prince, Neil Young, Bruce Springsteen, Les Paul, Stevie Ray Vaughan, more...
We're not here to change your mind about anything," Charlie Starr, lead singer, guitarist, and songwriter for Blackberry Smoke, announced from the stage at a recent live performance in Chicago. "We're here to ease your mind about everything."
The infectious melodies, thoughtful lyrics, anthemic choruses, and, most of all, rollicking rock riffs of Blackberry Smoke acted as fuel for the propulsion of euphoria into a worried mind. Yet hardly a day passes without an unimaginative writer declaring rock and roll, and its infinite subcategories — especially Southern rock — dead or close to it.
"That's capitalism and the internet," singer-songwriter and Florida native Kim Logan says when I ask her about rumors of rock's demise.


According to the narrow metrics of mainstream American culture, if profits begin to fall, or if the number of social media followers appears less than monstrous, expiration is mere moments away. The irresistible and indefatigable music of Blackberry Smoke, the world's current standard bearers of Southern rock, along with the venomous intelligence over a heavy riff that is Logan's developing oeuvre — plus the songs of the Marcus King Band, Tyler Bryant and the Shakedown, Sturgill Simpson, Chris Stapleton, Gov't Mule, Ashley McBryde, and Whiskey Myers — say otherwise.