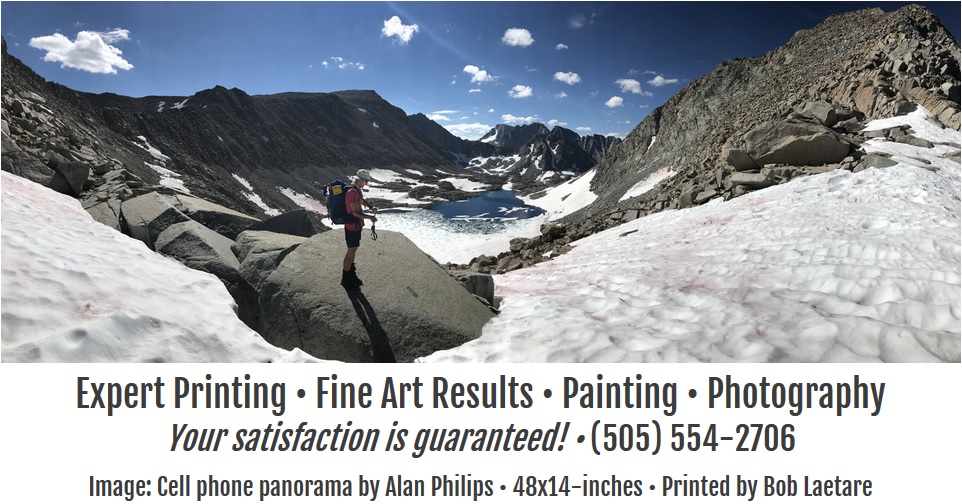 I'd like to thank those of you who went to The Gallery @The Artistic Image to view the paintings of Edna Casman. I am sure she was excited to meet you and share her work.


With our next couple of exhibits we will alternate between photography and painting.


First off, Maria Hanley will be exhibiting, along with Jim Baca, Jennifer Dillard, and Ed Hornbeck. The theme for their show is, "The Beauty in and Around New Mexico." It looks like this is going to be an annual show for Maria. Last year's show was very well attended, and sales were made. I'm counting on you guys to get out this Saturday and attend the opening. You can read all the details in the card, below.


Coming in at the beginning of December The Gallery will host another painting exhibit. Ann Hart Marquis and Sarah Anderson (no relation) will be exhibiting new acrylic works, "Vantage Points." Both artists are established and their works sell very well.


Each show is well attended and many sales are made. You'll want to come early to Ann and Sarah's exhibit in an effort to show both artists that The Gallery is THE place to exhibit in Albuquerque! The details for this exhibit can be found in the card, below.


Continuing into the new year, we are working on a special "pop up" exhibit and photographer Alan Toepfer is scheduled for a January 19, 2018 opening.


• If you are thinking about having a show at The Gallery, let us know as soon as you can so we can schedule it, accordingly.


Lastly, over on The Artistic Image site you can read Bob's review of Moment lenses, which are designed specifically for cell-phone cameras. Bob has tried a few of them and has something to say. I could say that there is a perfect reason for Bob to be doing the review, but my lips are sealed. Really, they are... I'm not talking, but I don't know about Bob. You can read all about them, here.