• Welcome Caroline, Paul, and Dan to The Stringer! Thanks for signing up at GuitarVista.
• Notice: GuitarVista will be closed November 20-26.
Holiday season is upon us and now is the time to stop by GuitarVista and pick up your dream guitar! Of course, you may not know which one the is until you play a few. That's what I did before I selected a nice used acoustic Gibson 1967 jewel. What's your desire?
We want to congratulate and pass all our good wishes along to Steve DeRoma, our erstwhile photographer and general chief factotum, who was offered and has accepted a position with Bourgeois Guitars in Lewiston, Maine. Yes, we miss him already but know that he will carry New Mexico's aesthetic sensibility to the North Country.


Anyway, Stan and I hope you have a great Holiday week and keep on playing!
We hope you enjoy this issue and will share it with all your friends... pass it on!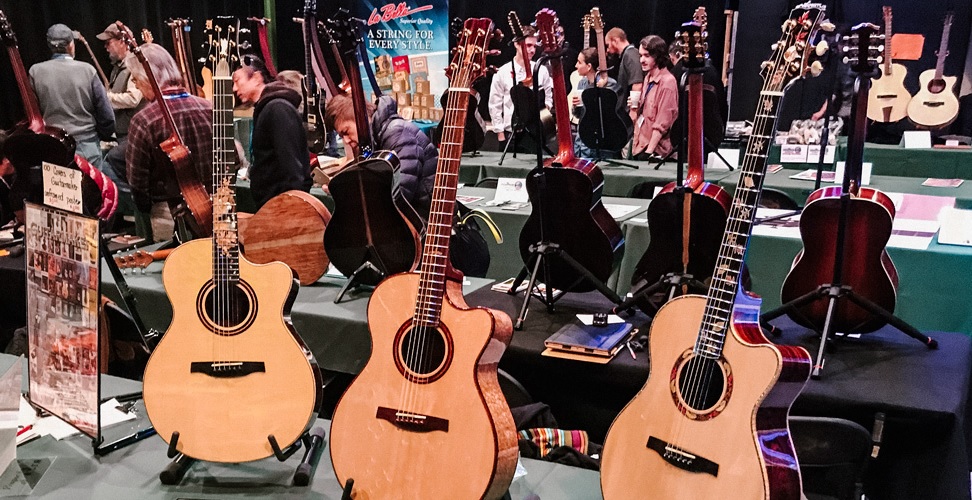 Woodstock Luthiers Showcase 2018 Wrap-up!
Each year, the PRS Private Stock Acoustic team visits the Woodstock Invitational Luthiers Showcase in Woodstock, New York. "Woodstock" as it's affectionately referred to by attendees, is a showcase of the finest acoustic guitars built by the most talented luthiers in the country.


This year was a big year for the Woodstock showcase as the event celebrated its 10th Anniversary. For the past 4 years, PRS has been a proud sponsor and exhibitor at the event.


From Friday to Sunday, approximately 50 builders and another 20 or so vendors all gather at the Bearsville Theater in New York state. The theater is open to the public, encouraging all to experience seminars on building and inlay, as well as acoustic performances by some of the best players in the business.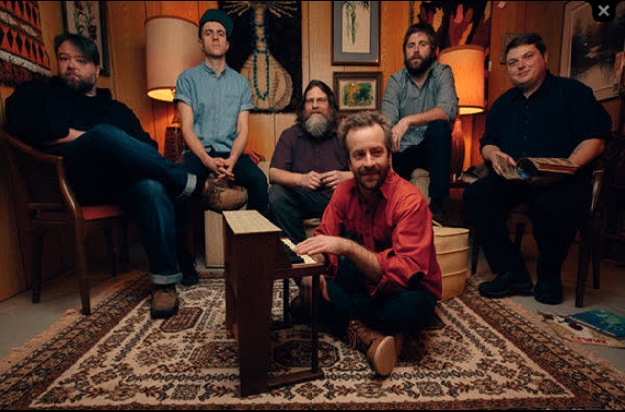 Trampled By Turtles in Taos (AMP)

Trampled by Turtles are from Duluth, Minnesota, where frontman Dave Simonett initially formed the group as a side project in 2003. At the time, Simonett had lost most of his music gear, thanks to a group of enterprising car thieves who'd ransacked his vehicle while he played a show with his previous band.


Left with nothing more than an acoustic guitar, he began piecing together a new band, this time taking inspiration from bluegrass, folk, and other genres that didn't rely on amplification. Simonett hadn't played any bluegrass music before, and he filled his lineup with other newcomers to the genre, including fiddler Ryan Young (who'd previously played drums in a speed metal act) and bassist Tim Saxhaug. Along with mandolinist Erik Berry and banjo player Dave Carroll, the group began carving out a fast, frenetic sound that owed as much to rock & roll as bluegrass.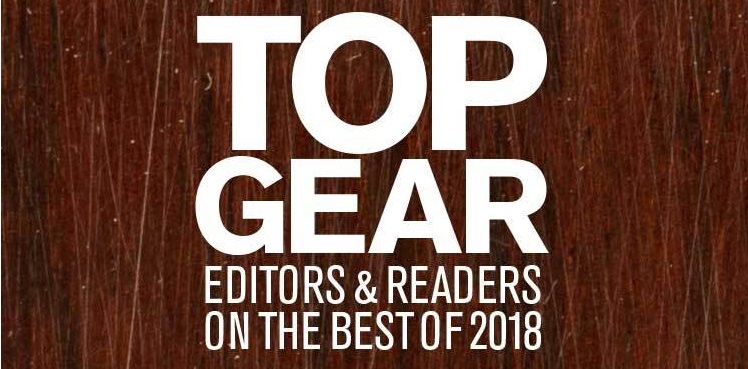 Top Gear 2018: AG Editors & Readers
on the Best Gear of the Year
After several years of quiet trends in the acoustic guitar world—like players discovering the joys of smaller-bodied guitars—the legacy guitar brands announced big changes that will make 2018 a year to remember. Big unveilings from Taylor and Martin at the NAMM show in January set the tone, while a leadership change at Gibson left many hopeful for the future of the treasured brand.


As detailed in AG's May cover story, Taylor's Master Guitar Designer, Andy Powers, had been quietly working on a revolutionary new bracing approach that the high-volume maker initially rolled out on its top-of-the-line guitars. Using hand tools and CNC machines, Powers spent countless hours refining this new bracing design—dubbed V-Class bracing—which the company later spread across its line of U.S.–built Grand Auditorium guitars.


GuitarVista Showcase I & II & III
A Gibson Suite of Beauties!


• First off we have a (c) 1977 Gibson RB250 banjo (above) that is meant to be played. I have to admit I am not the one to do that. It is so clean it is hard to believe it is a 1977!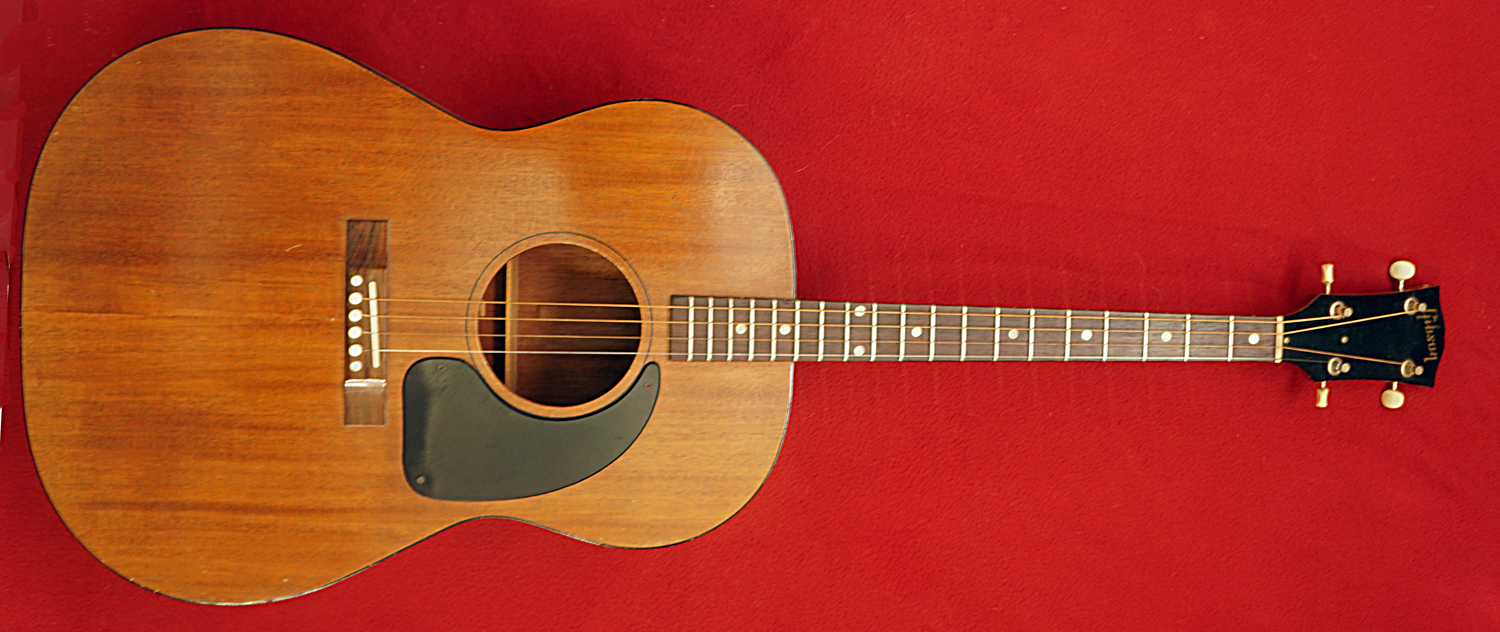 • Next is a sweet 1963 Gibson Tenor guitar that falls into the same category as the banjo. This one is in great condition, much better than yours truly, who graduated from high school in 1963! Did I hear someone say, Neko Case?

• The 1975 Gibson SG (below) is like its cousins above, in great condition. The solid body shines and the strings are ready for some rock-n-roll!

To get the full impact of these three Gibson classics you will just need to drop by and try 'em out! Tell Stan Tim sent you and he might just shake your hand!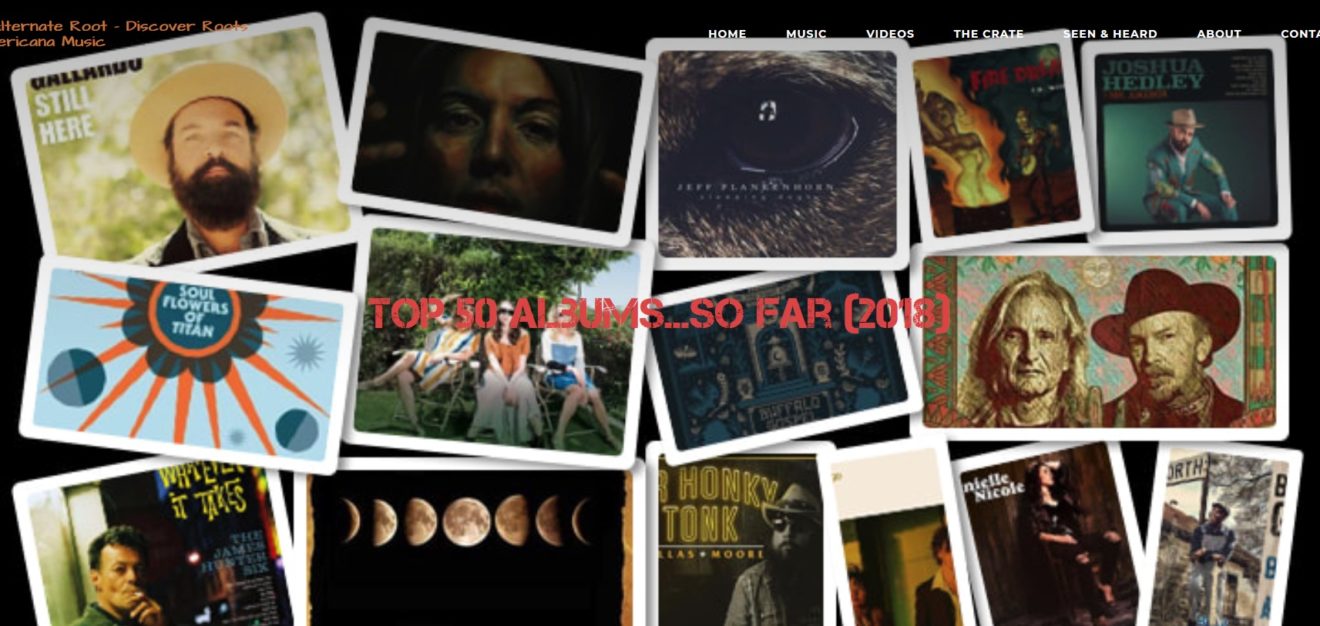 top 50 albums..so far...2018
From January to June, the release schedule, and quality albums, has been a non-stop flow in the Americana, Blues, Folk, Bluegrass, Soul and other styles taking at seat at the American Roots table. By the Way, I Forgive You from Brandi Carlile broke her to a wider audience, as did the causes she took on with her championing of the youth gun control movement as well as her appearance at marches and protests. Joining Brandi Carlile in the top ten album releases from 2018 are newer artists such as Sarah Shook and the Disarmers, Joshua Hedley, and Sam Morrow alongside seasoned performers and perennials favorites John Prine, Buddy Guy, and the pairing of Dave Alvin and Jimmie Dale Gilmore. Filling out the ten spots at the top are musicians who best their own work with each release such as The Milk Carton Kids, Leon Bridges, and American Aquarium.

It has been, so far, a very good year. The diversity glasses we have adopted as needed fashion accessories have expanded their benefits from eyes to ears, handshakes to hip shakes with strong new releases from The Record Company, Paul Cauthen, Danielle Nicole, Gretchen Peters, Trampled by Turtles, Barrance Whitfield & The Savages, The Wood Brothers, and more. First time on the chart artists Buffalo Gospel, Liz Brasher, and Ruby Boots join debuts from solo performers collecting in I'm with Her (Aoife O'Donovan, Sara Watkins, Sarah Jarosz) and The Reckless Electric (Mary Bragg, Becky Warren).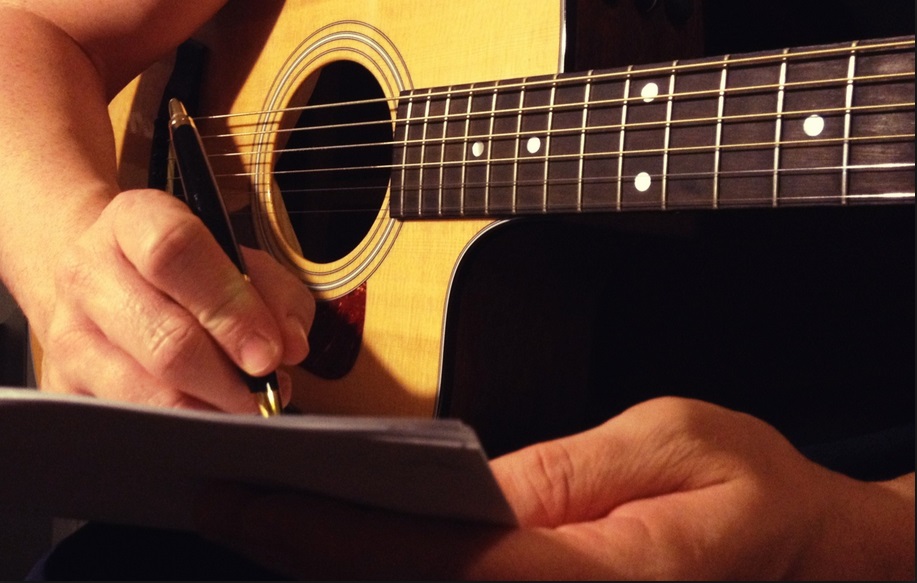 Honey, who's that one about?
...or a songwriters' dilemma
Let's face it: it's difficult to be married to a musician, but it may be most difficult of all to be married to a songwriter. As the spouse, you end up hearing songs about bad relationships, break-ups, leaving on the next train to Memphis, etc., and naturally wonder if this is an expression of your songwriting spouse's discontent, restlessness, or worrisome knowledge of Amtrak's remaining routes.This is to say nothing about murder ballads. It's only natural, if you're prone to taking songs as a literal expression of what's going on at the moment, to ask, "is that about me?" or "is that about us?"


On the other side of the lyric equation, there are the positive love songs (there are at last count only about 12 of these in bluegrass music, but they do exist). If they describe a person or a situation unfamiliar to you, the spouse, you're naturally tempted to ask, "who's that about?" or "when did that happen?"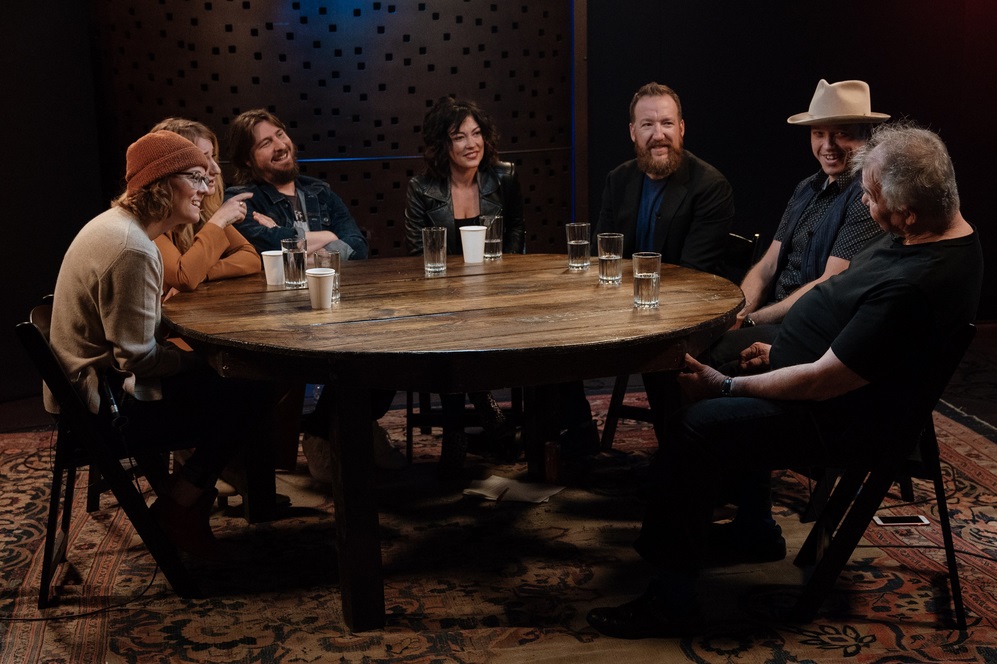 WATCH: Amazon Music Americana Roundtable
Don't you wish you could pull up a chair at this table? From Brandi Carlile and Margo Price, to producer Dave Cobb and Amanda Shires, to Jason Isbell and John Prine – these songwriters always have something to say in their music. In a conversation with Amazon Music's Adam Steiner, these Americana all-stars go in-depth about their early musical influences, the mentors and producers who shaped their sound, and the most important parts of recording – including goofing off.


Carlile kicks off the conversation with this childhood memory: "The first time I fell in love with music probably would have been hearing my grandfather yodeling as a 4- or 5-year-old — yodeling, and playing the spoons, with his mom on piano and his brother on banjo and my mom singing background vocals. Kind of the family jam scene. That's what I remember — falling asleep on the stairs, thinking, 'Maybe I can do that – that little trick he does – when I get older.'"


*This a great, insightful 30-minute video from these music-industry greats, both present future! (-ed.)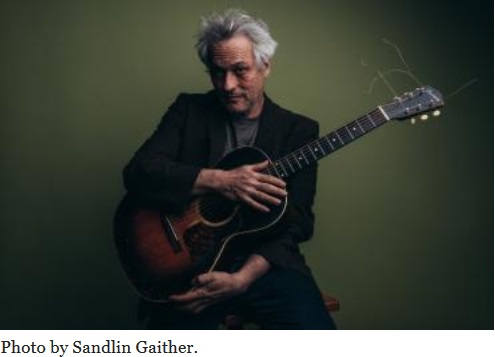 Marc Ribot on Resistance and its Songs
Marc Ribot has been an activist for years. For 2018, though, he's doing something new.
He's been a "rank and file" activist with his union, as he puts it. He's attended Occupy rallies. He's never been much for established party politics, though; he has never hit the pavement in support of a candidate, for instance. This year that has changed. The prolific experimental guitarist canvassed during the primaries. He didn't get sent out to argue with people on the opposing side, he says, but to energize the existing voting base, to remind voters that an election is coming, or to line up a ride to the polls for someone in need. What he saw poked holes in the clichés that circulate online or through TV. What he saw energized him.


"You become aware, man – a lot of our neighbors are really in despair and you need to get out there," Ribot says. "Also, you become aware that a lot of our neighbors are really cool people."


In his four-decade career, Ribot has released 25 records under his own name, though many likely know him as the guitarist whose oblique, angular style has become a hallmark of Tom Waits records since 1985's Rain Dogs.



For The Stringer readers only! Buy one BuskerBag at the regular price of $45 and get one free. Two for the price of one, including free shipping in the continental U.S.
How's that for a Fall Sale!