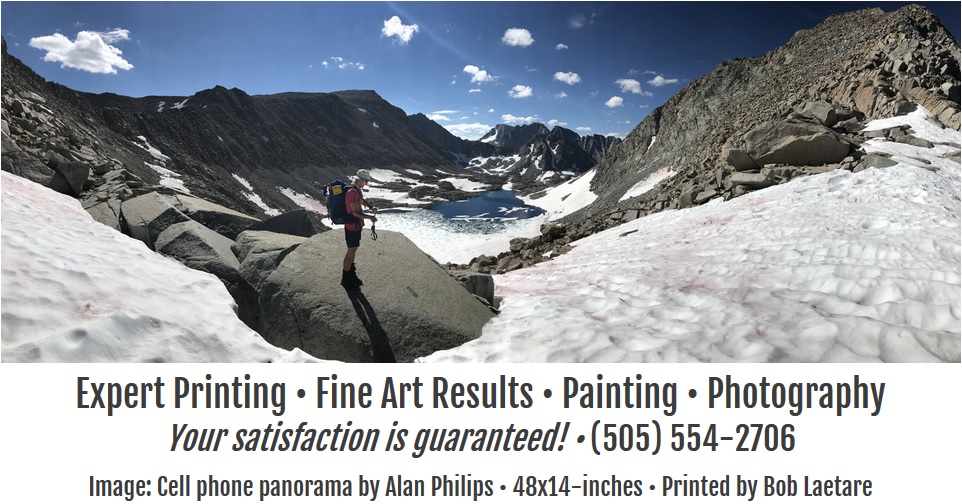 Just a quick reminder to let you know about photographer Alan Toepfer's exhibit, which ends tomiorrow (see card, below). Here is a short blurb about Alan:
Alan Toepfer has traveled extensively for business and pleasure, and has photographed in the United States, Europe, Russia, South America, Asia, and Antarctica. Landscape, travel, and wildlife are his main subjects. His hot air balloon and wildlife images have won a number of awards, including 1st place in the Albuquerque International Balloon Fiesta Photo Contest in 1988, and 1st place in the Amateur Category of the International Wildlife Film Festival photo contest in 1992.
This is a great time to view a full show with more than two-dozen images on the walls. Book your personal show soon as gallery slots are being filled.


We also have the New Mexico Artistic Nude Photography Show coming in March. We will have more info on that one very soon, or you can go here to be updated.


Also on tap:
• Cell Phone Photo Contest: Details are in the final stage and we will have additional info on the site (www.photoartnm.com/)
• Gallery: Tim Anderson & Friends (David Duplessie & Maria Zendejas, May-TBD)
• Gallery: Savina Romero (Painting-June 1-18, 2019)
• David Duplessie (new work, Fall dates tbd)


• If you are thinking about having a show at The Gallery, let us know as soon as you can so we can schedule it, accordingly.