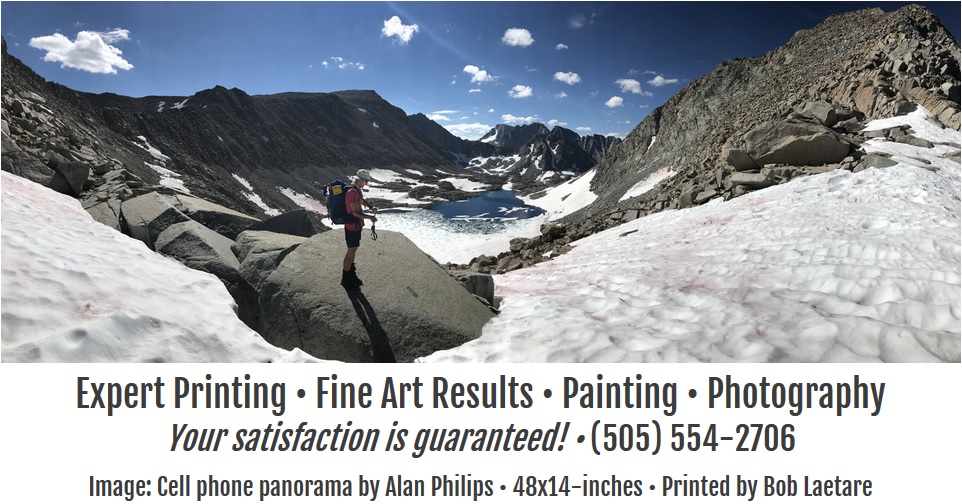 As you can tell by the content in this notice, we are here, today, to inform you of upcoming shows. The Gallery will be busy though May. If you would like to book a date after that let either Bob or Tim (that's me!) know. We'll be happy to sit and have a chat so we can, together, create a great show!


• Note: links for the items mentioned below can be found in the main area of this notice...
We are very excited about the Cell Phone Photo Contest. With all the tech advancements in camera systems in the newer cell phones, this should be a very well represented show. We are looking forward to see what you can do: iPhone vs. Android, and a few others. It will also be interesting to see what brands New Mexicans like best. I also need to note than Bob has told me we have already received a good number of entries, of which some "are very good!' (Bob) There are only a little more than two weeks LEFT to enter, so... WHAT ARE YOU WAITING FOR?


After the Cell Phone Contest I will be hosting an exhibit with two of my students, "Tim Anderson & Friends." Although they may not like the tag of "student." I certainly wouldn't want to tell them that I am learning just as much as they are. In some ways it is they who are stretching me, but that's good.


In June we will have Savina Romero, an Albuquerque Academy graduate, who is now attending Chicago Art Institute. She will be having her first show. From what little I have seen of her paintings, it is sure to be a treat to see the gallery walls filled with color.


We do have several more exhibits that are just in the planning stages, but we are hopeful we can plug them in the gallery calendar before too long.


• If you are thinking about having a show at The Gallery, let us know as soon as you can so we can schedule it, accordingly.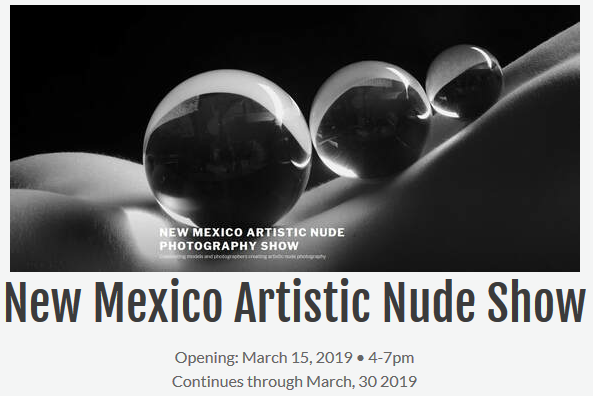 Photographers: Liz Blasingame, Dave Dell, Bradly Sam, Tim Anderson, Kenneth Ingham, Wayne Hall, Robert Laetare, Jackson Morris, John R. Goyer, José Armas, Gregory P. Smith, William Aranda, Alex Townsend, Dallas Morgan


Models: Alyssa Metzger, Kinzy, Dee Devine, Mary Jane Monroe, Kris Lea, Elise, Jeremian Gordon, Jesse Ryder, Sid Khalsa, Ziggy, Hendrika Nerima, SG, Marissa Wilson, Amye Morgan