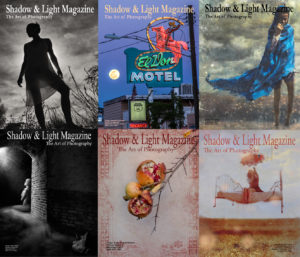 Welcome to the Third Annual Bundle of Shadow & Light Magazine. For $12.50 you will receive six complete issues of the PDF photography magazine that gains in popularity with each issue published. With more than 168 photographers have been published since its inaugural year of publication, Shadow & Light Magazine continues to discover new talent as well as offer to our readers those photographic talents who have already captured our attention.
January/February 2017
Featured Photographer: Kamil Vojnar
Showcase Photographers: Paul Biddle, Karin Hillmer, Vincent Serbin, Lori Pond, Brooke Shaden
MarketPlace: Alain Briot, Part 4, Projects
Color It Red 2017: Preview
On Balance: Bobbie Goodrich
Mindful Matters: E.E. McCollum, Do You Wanna Dance?
Turning Pages: Rosanne Olson, The Art of the Portrait
Endpaper: Tim Anderson, French Noir #4354.
March/April 2017
Color It Red Winner's Issue
• Table of Contents: Featured Photographer, Susan Brandt Graham
• Showcase Portfolios: Barbara Collins, Catherine Fairchild, Amy M.Ditto, Mara Zaslove, Dolph Miller, Jack Crary, Elsa d'Ellis
• Single Image Showcase: Monica Cioffi, Tony Gonzalez, Robert Hecht, Willa Davis, Rick Kattleman, Chester Ng, Diane Linscott,
• Also: Alain Briot, E.E. McCollum, Photoshelter Contest Book 2017
May/June 2017
Featured Photographer: Marie Maher
Showcase Photographers: Dale Niles, Rosanne Olson, LuAnn Ostergaard, Robb Johnson, Ivy Bigbee
Artful Inquiry: Alain Briot, Abstraction, Part 1
Déjà Vu: Niki Boon
ArtSmarts: Beate Chelette: 5 Star Success Blueprint
Mindful Matters: E.E. McCollum, When is a Photograph Made?
Endpaper: Tim Anderson, Conversations With Sand #2898
July/August 2017
Special Encaustic Issue
Introduction by Helen K. Garber
Encaustic Artists Featured:
• Carol Mell (cover)
• Helen K. Garber
• Jeri Eisenberg
• Patti Russotti
• Sarah Rehmer
• Robert Medina Cook
• Lori Van Houten
• Jill Skupin Burkeholder
• Marybeth Rothman
• Wayne Montecalvo
September/October 2017
Route 66 Special Issue
Table of Contents:
Featured Photographer: Donatella Davanzo
• Showcase Portfolios:
Pat Berrett
Martin Smith
Rob Atkins
Rhonda Spidell
• Articles:
Mindful Matters: E.E. McCollum, Ode to Western Highways
Technique Spotlight: Andrew Darlow, Focus and Filter
Artful Inquiry: Alain Briot, Part 3, Abstraction
In Review: Arthur Myerson, In Color (by Tim Anderson)
November/December 2017
Black & White Special Issue
Table of Contents: Featured Photographer, Elizabeth Opalenik
Showcase Portfolios: Mary Anne Mitchell, Carol Erb, Jim Kazanjian, Cole Thompson, Jamie Johnson, Dotan Saguy, Mitchell Hartman
Articles:
• Mindful Matters: E.E. McCollum, Photographs as Experience
• Artful Inquiry: Alain Briot, Part 4, Abstraction in Black-and-White
• Endpaper: Tim Anderson, Angel