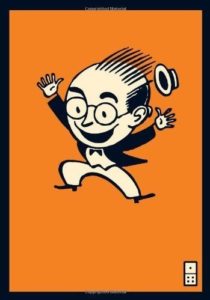 If you are anything like me, you constantly have "an idea!" Am I right? Furthermore, if you are anything like me you usually don't get very far with that idea.
Such is my conundrum. I can think up ideas, plan them out, and plan them out, and plan them out. By the time I think the planning is done, I am tired of thinking about it. Besides, it probably wouldn't have worked anyway.
Is this you? Or, better yet, was this you?
It used to be me, to such a great extent that it drove me (almost) to therapy. Before I took that step, however, I picked up a great little book by Seth Godin. He writes a lot of these; kind of like Malcolm Gladwell. Unlike Gladwell you don't have to sit and ponder each chapter in an attempt to understand what the author is trying to say.
With Godin there is no doubt about what he is saying (writing). Like I said, he writes little books, with not much fluff. He writes what he means—and he writes what he practices.
In one of these books (above), "Poke the Box," he posits that if you don't "poke" it, the box will likely go nowhere.
"If you get in the habit of shipping things, of making a difference and of poking the box, that's your doing, and the rest of us will take pleasure in enjoying the fruits of your bravery," he writes.
At this point in my life I am "poking" as much as I can, working on workshops to present, newsletters to send, and ideas to share to fruition.
"If you don't start, if you pull back into your shell, if you recoil in fear," he writes at the end of the book, "at this extraordinary opportunity (and obligation), them blame me. I clearly didn't do a good enough job of cajoling and daring you into doing the work you're capable of, the work that matters."
As long as I can continue in this mode I may not need any therapy at all, at least not long term therapy supine on some stranger's couch!
Are you poking the box? If so, tell me what you are doing.